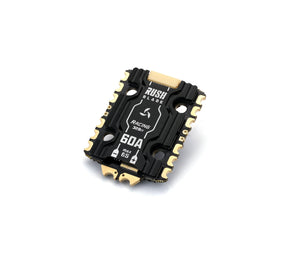 High-speed BLHeli_32 ESC: The Ultimate Powerhouse for Drone Racing
Are you an adrenaline junkie who loves the thrill of drone racing? If so, you know how crucial it is to have top-notch equipment that can handle the intense speeds and maneuvers. One component that plays a vital role in your drone's performance is the Electronic Speed Controller (ESC). In this blog post, we will explore the high-speed BLHeli_32 ESC and why it is the ultimate powerhouse for drone racing.
What makes the BLHeli_32 ESC so special?
The BLHeli_32 ESC is a game-changer in the world of drone racing. It offers unparalleled performance and reliability, making it the top choice for professional racers. Here are some key features that set it apart:
High-speed capabilities: The BLHeli_32 ESC is designed to handle incredibly high speeds, allowing your drone to reach its maximum potential. With its advanced firmware and hardware, it can keep up with even the fastest racing drones on the market.
Smooth and responsive control: Precision is everything in drone racing, and the BLHeli_32 ESC delivers. It offers ultra-fast response times and smooth throttle control, giving you the edge you need to outmaneuver your competitors.
Reliability and durability: When you're pushing your drone to the limit, you need an ESC that can handle the heat. The BLHeli_32 ESC is built to withstand high temperatures and intense racing conditions, ensuring that it won't let you down when it matters most.
Why choose the Racing V1.2 60A 3-6S BLHeli_32 4-in-1 ESC (20*20)?
Among the various options available, the Racing V1.2 60A 3-6S BLHeli_32 4-in-1 ESC (20*20) stands out as a top contender. With its cutting-edge technology and exceptional performance, it is the go-to choice for professional drone racers. Here's why you should consider investing in this ESC:
Unmatched power: The Racing V1.2 60A 3-6S BLHeli_32 4-in-1 ESC (20*20) packs a punch with its high current handling capability. It can provide a steady and reliable power supply to your motors, ensuring optimal performance throughout your races.
Compact and lightweight: Size and weight are critical factors in drone racing, and this ESC excels in both areas. Its compact design and lightweight construction make it easy to integrate into your racing drone without compromising agility.
Easy installation and setup: The Racing V1.2 60A 3-6S BLHeli_32 4-in-1 ESC (20*20) is designed for hassle-free installation and setup. With its user-friendly interface and intuitive software, you can get up and running in no time.
So, why wait? Take your drone racing to the next level with the Racing V1.2 60A 3-6S BLHeli_32 4-in-1 ESC (20*20). Experience the power, speed, and reliability that professional racers swear by. Don't miss out on this game-changing ESC!
Get the Racing V1.2 60A 3-6S BLHeli_32 4-in-1 ESC (20*20) now and unleash the full potential of your racing drone!
Click here to purchase the Racing V1.2 60A 3-6S BLHeli_32 4-in-1 ESC (20*20)
---